Submarine in the Desert
_________________________________________________________________

February 9, 2006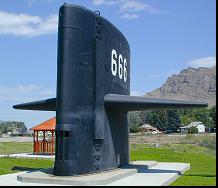 The "Devil Boat" USS Hawkbill (SSN 666).

Arco - Like many little Idaho towns, Arco's hay-day may have come and gone. But, there is something different about that tiny city.

You look on any map, and Arco seems isolated and stuck in the middle of Idaho's high desert.

Well, if you ever set sail for the small community, you can't what's sticking out in the middle of town.

"It's a good drawing card," says Richard Dean. "People stop and they look it over. Inevitably, they'll come up and touch it."

Dean is among a group of locals who helped create something unique in Arco.

"There's a little under 70 tons sitting there," he says. "If I remember right, it's 22 feet up to there."

Yeah, standing tall is a nuclear submarine sticking out a park in town. Well, actually, it's just a sub's sail -- the top part of the vessel -- that's been put on display there.

"And that's where they go in and out when she's out at sea," says Dean.

"We just paid one buck for it, and that was it."

Dean says for one dollar, the group purchased the sail from the Navy.

"It is leased to Arco for a hundred years," he says. "This actually belongs to the Navy yet. And every year we have to send a report in to the Navy on the condition of it."

"Submarine in the desert," says Clay Condit. "Yeah, an oxymoron if you ever had one."

Condit says Arco erected the sail in 2003.

"It was a very successful boat," Condit says. "Had a great history."

The sail came off of a real sub that was called the Hawkbill.

"They mapped the Arctic Ocean with this thing," says Condit.

That's true. The Hawkbill often set sail in the water's underneath the polar ice cap.

"That was during a period when there was still a cold war on, and the Russians were putting a lot of boats in the Arctic."

"And we had teams of scientists up on the surface, and it would ram its way up through (the ice)," says Condit. "17 times they went through the polar ice."

The sub was inactivated by the Navy in 1999.

And what may stick out the most on the sub sail -- is its number.

"Yeah, and this just happened to be the 666th," Condit says. "This was the number that was given."

666 is clearly marked on both sides of the sail. 666 is sort of the sub's serial number. And it led to its nickname.

"It was called 'The Devil Boat."

The Devil Boat -- because 666 is in the Book of Revelations in the Bible. And that's created mixed reaction in conservative Arco.

"Some of them didn't like it," Dean says about some Arco residents. "And some of them still don't like it."

"And we came back one day, and some guy climbed up there and changed that into G-O-D for God," Condit says with a chuckle. "And we had to go re-paint it."

For the most part, the community has come to accept the Devil Boat.

"I think people should stop and see it, and pay respect to the people that manned them," Dean says.

But really, it's dripping with nostalgia in more ways than one. Because it's more than a tribute to its sailors.

"And so, we went to the navy and said 'Hey, we've had a great history back here," says Condit. "So, they contributed the sail of the Hawkbill."

Condit says the sail is really a way to honor all the nuclear research that's been conducted for decades at the nearby Idaho National Laboratory. Among the work there, research and developments of nuclear submarines.

"And they've done some really extraordinary work there," Condit say. "This was some of the most non-weapons related nuclear work that was ever done in the country."

And after all, Arco also was the first city in the world lit by atomic power.

"This is a tribute to that effort," says Condit.

"Ties in with the history that isn't really visible until you think about it."

And he hopes people will take time to stop to think and remember that history.
____